Fear. You've experienced it right?
Fear of the future. Fear of the unknown.  Fear of what others think.
Some fears are a little justifiable such as:
I'm scared that the ONE time I check my phone while driving will be the ONE time I get in an accident. (a.k.a. Murphy's Law rules my life!)
Some fears are less justifiable such as:
I'm scared I won't fit in… (Get over it! – that's what I need to do!)
Yet getting past your fears is hard to do.
The Decision to "Procreate"
Sometimes big decisions are made in a snap. For instance… buying our dog. Occasionally, you don't realize the full effect of a decision until WAY later in life.
For the record – we love our dog… he is like our first child. >>> Exactly the reason
buying our dog was a snap decision that didn't really effect us until WAY later in life…
… 3 kids later to be exact!
My decision to blog was quick. But how it will effect my life later is yet to be known. This post here by Missy over at Wonder Friend has me a little concerned about my blogging future…
Mental Preparation
I mulled over my blog idea and daydreamed about blogging.
I researched how to start a blog and brainstormed blog names.
I fell in love with social media. I found other great bloggers. And then…
The FEAR.
And SELF DOUBT.
Really? Can I do this? Will people care to hear what I have to say?
I live an average life. I am an average person. Who wants to read about being "average?"
So I did the next best thing to starting my own blog. I blogged here as a contributing blogger.
Being a contributing blogger is kind of like babysitting as a young teenager.
You get paid (very little – but hey, it's a job!)
You get to pretend like you're a good housekeeper parent writer (but ultimately when your job is over, you go "home" and leave all the maintenance to the real "parent")
Yet, like babysitting, contributing to a blog mentally prepared me for starting my own blog. And the idea of blogging was beginning to become real.
A Reality Check
So I started to again work towards completing my own blog. This time with a little less fear.
I excitedly bought my own domain.
I lovingly designed my own graphics
I dangerously tweaked my WordPress theme code
(and then lost every tweak… and then tweaked again! UGH!)
… Until finally, it was ready.
I was so close to the beginning of something. So close to something I had put so much energy into and wanted so badly.
You might compare it to that feeling at the end of a pregnancy. You know? When you're 9 months pregnant, the baby's room is ready, the cloths are all on hangers and the only thing you are waiting on is the arrival of your new little one. AND… you are extremely uncomfortable.
You can't sleep at night.
And the fear has come back again.
The blog looks real. It acts real. I've even mentioned to some my intent to blog.
It's real!
But do I really want this? Do I really want to put myself out there?
Fear. Self Doubt. It sucks.
The Delivery Room
But eventually delivery day needs to come. Too much work heart and soul went into making this space mine to not be able to at least see where this all goes.
Yet I'm scared. And maybe my fear is unjustifiable and I just need to get over it? Eventually, everyone needs to face their fears…
So… that's what I'm forcing encouraging myself to do.
Hello World. My name is Kate. And I am a New Mom New Blogger.
Happy "birth day" to me?
Leave a comment! If you blog, what was your blog "birth day" like? Were you scared? How do you fight fear and self doubt? Everyone has their first day "on the job" right?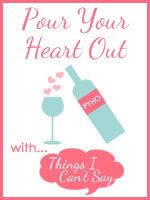 I am pouring my heart out. So in honor of my 1st official blog post, I am linking up with Shell at Things I Can't Say and participating in her "Pour your Hear Out" blog carnival. Check it out! You'll find some great bloggers there!