One thing that never ceases to amaze and humble me, is when someone pauses to say:
Thank you.
The fact that someone takes even a moment of their time to acknowledge something another does, pleasantly (but still surprisingly) continues to astonishes me…
because…
There have been a million and one times that I have thought in my head, for a split second:
"Wow! That person did an amazing job!"
OR
"Holy Cow, that was SO nice!"
And just as I am about to say thank you, or type a quick email to tell them what a wonderful job I thought that they did…
One of my little munchkins start tugging at my sleeve, or the phone rings, or the school bus arrives, or SOMETHING distracts me, whatever… the point is, something happens and needs my attention with way more urgency than the "Thanks" I was about to give.
And I just forget.
Believe me, when I say I TOTALLY understand when someone doesn't verbally notice something I've worked hard on and put my heart and soul into.
The fact is, I'm embarrassed to admit that many times, I am that person that doesn't verbally recognize someone else's hard work when I should.
So I understand. Period.
Because:
I know what it feels like to be overwhelmed.
I know what it means to have nearly enough time to almost catch up on everything that needs catching up with.
And I recognize that everyone has different priorities, comfort levels and other crazy things that consume their daily lives OTHER THAN saying thank you.
Family. Broken Fingers. Friends. Work. Blogging. School. Life in general. Happens.
I get it.
Which is even MORE a reason why I genuinely appreciate when someone does say thank you or shows appreciation.
It is this knowledge – of how hard it can sometimes be to make time for, or remember to say, thank you's – that makes me realize how important and how far a simple thank you can really go.
My Somewhat Shady background with Thank You's
Growing up, I have to admit: I hated thank you notes.
There. I've said it and I'll say it again… I HATED thank you notes. I can't sugarcoat it. Not one bit.
All the great things in my life were always followed by the need to produce the "dreaded thank you note."
Dear Grandma and Grandpa,
Thank you so much for the Birthday Gift!
Dear good friend, family member, etc. who really isn't reading this,
Thank you for coming to my birthday party/wedding/baby shower…
Waste. Of. Time. (That's often what I thought growing up!)
I thought this because the thank you note I was writing felt less genuine to me and more along the lines of a "mass-quantity-assembly-line-letter." In turn, I felt that my thank you note had less meaning.
But I am the first to admit when I am wrong.
And I was wrong.
Because time is precious. And, damn-it! The older I get, the more my short term memory fades and the quicker my recollection to say "Thank You" disappears.
I realize how significant even the smallest thank you is from other busy people with other busy lives and other busy priorities who also have a "busy-mommy-memory" such as my own.
And now, when I see a quick thank you note to me from someone I think: WOW! They took a moment of their precious time to thank me!? (Even if it maybe was a "mass-quantity-assembly-line-letter.")
So I stand corrected.
And now, like my parents once did to me, I make my kids do the much dreaded thank you notes.
Yep! … Every. Single. Time.
A Dash of Sunshine
Let me make myself clear…
This is not a plea for others to thank me.
I don't need to know that all the crazy things I do that I don't get paid nearly enough for considering the amount of effort and time I put into them are appreciated.
I just want to be able to do things that fulfill me and also allow me to have balance between my family and work life. And often that means doing things that are under appreciated and not recognized.
And I'm OK with this.
Acknowledgement doesn't make me a better mother, blogger, teacher, wife, volunteer, employer… for me, balance does.
With that being said… when I'm having a bad day, when nothing is going right, when all hell breaks loose in our household because the baby is sick and the husband has work and the middle has soccer and the oldest has a book report and I am the only one around to take care of everything… and I just. can't. keep up…
A thank you (note, tweet, email, whatever!) from someone else can be like a life saver and a shining moment in a not-so-sunny day.
And this is what really makes me aware of the power of those two words: thank you… when I feel the sunny effect they can have on me.
And then I imagine the effect it could have on someone else who maybe had a worse day.
Reconsidering My "Take" on Gratitude
SO, I have learned to recognize that the "dreaded Thank You Note" my parents forced out of me, in hindsight taught me to prioritize my gratitude.
And recently, I have felt a renewed energy in the importance of thanking others. (Because sometimes it takes multiple exposures or reminders to remember how important something really is and I don't have my mother breathing down my neck to FINISH THOSE Thank You's!)
So from this point forward, I'm making a commitment to better appreciate others and their time more. (Because I know how precious my time is!)
And on top of that, I want to appreciate others more, without expectations.
I want to pay-it-forward quietly.
Because two words – Thank You – Can go a long way towards brightening someone else's day…
And my 1st "Thank You" (as I renew my energy in this "gratitude endeavor") is to my mom and dad, for making me write Every. Single. Dreaded. Thank You note. Ever.
Really.
I mean it.
I think.
Leave your comment. How do you feel when someone takes the time to thank you? Do you ever, (like I have often!)  forget about saying thanks? How important do you think it is to make your kids write thank you notes?
~
Today I am linking up with Just.Be.Enough.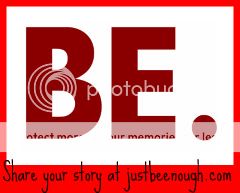 Just.Be.Enough. has a mission to empower, inspire, and remind women, parents
and children that the time has come to celebrate ourselves. Hop over and check out their blog!