~
QUESTION: Have you ever not given yourself enough credit, where credit was due??
The other evening I accompanied my husband to a banquet where he was a nominee for an award honoring the top 20 leaders under the age of 40 in our city.
We walked into the reception with all sorts of high hopes and expectations…
(At least I did – because I think my husband is amazing, I'm so proud of all his accomplishments, and I know how much he truly deserved to be recognized for them!)
High hopes and expectations…
That gradually got lower, and lower…
And lower…
And I was put. in. place by:
the other amazing leaders being recognized in our large community
the long and very distinguishable list of past award winners
and the gradual realization that this award was much more prestigious and difficult to obtain than I had initially understood coming into the evening
As the ceremony began and the recipients were one-by-one announced (along with their long lists of leadership achievements and community accomplishments), reality began to sink in.
The reality that there are a lot of really amazing men and women out there.
What was Really Going through my Head
And here is my secret. (shhhhh…)
As I started to comprehend my new, more realistic understanding of how narrow the chances really were that my husband might secure this award…
I am embarrassed to say, that I also started thinking about me, myself and I – and how disappointingly remote my chances would ever be of even being nominated for this award.
After all, what had I done over the last decade as I focused less on my career and more on motherhood?
(Not to mention the small amount of time I have left still under the age of 40. Couldn't they make it 20 under 50???)
Once upon a time, in a land that seems so far, far away – I would have considered myself an "up-and-coming young professional" too.
Once upon a time B.C. (a.k.a. Before Children)…
Recounting My Accomplishments
Wait!
Hold up.
Let me start at the root of my issue.
The source of these thoughts probably began with the fact that this past weekend was my birthday – and I have been a little hung up on age lately. (Don't believe me? See my post on Mothers' Central.)
Me with my family underneath my homemade "happy birthday mom" sign.
The truth is this: As my husband and I sat awaiting each award recipient to be announced, as our hopes got lower and lower that he might be recognized as one of the 20 under 40 out of the hundreds in the crowd …
My thoughts secretly began to drift towards myself…
As I reflected on the last 10 years of my own under-accomplishments.
In fact, the awards ceremony came to a personal stand still as I began (somewhat laughingly) to recount my accomplishments and what I would have to place on my 20 under 40 nomination form:
Three kids (whom I love beyond belief, but who have taken me away from career aspirations…)
A lagging graphic design career (that – as I thought more about it – I was actually OK with…)
A boatload of volunteer work in schools, church and my local Mothers' Center group
And this is where my thought process started to change.
Because it was at this point that I began to discover that I had, in actuality, built myself a pretty impressive resume over the past 10 years.
Along with the very important job of raising 3 kids, in my "spare time" (among other things) I had managed to:
Advise high school graphic design students
Educate college graphic design students (in my part-time, adjunct graphic design faculty role)
Volunteer as a group leader within my local mothers organization
And slowly my "resume" was starting to become a little less "laughable" as I continued to recount other professional accomplishments such as design awards, faculty art shows, and miscellaneous community activities I had participated in.
And here's the clincher: all these achievements happened despite having 3 kids.
In fact, I might go as far as to say they happened only because of my 3 kids…
My New Reality: A Career in Motherhood
And I had a new thought: Maybe my children aren't taking me away from my career aspirations, but providing me with new and greater aspirations!?
Without becoming a parent I would have never found my passion for teaching. (As I only began teaching initially to keep me involved in design while taking time off to raise my family).
Without the experience of parenting, I never would have found my local Mothers' Center and realized how successful I could be at networking, programming, and facilitating over 70 mothers.
And without my life qualifications as a mother, I may have never had the courage to make a career switch to blogging and have the confidence or knowledge to share my talents as a mother.
YES. There, I've said it: My talents as a mother.
This is really the first time I've managed to say that aloud.
I am not always a perfect mother, but every career path comes with mistakes right? The important part is I am working hard to learn from those mistakes to "further my career" and my passion for my children and parenting.
Motherhood IS a talent… and there are a lot of talented mothers out there. A LOT.
And there are a lot of talented mothers who (like I did) still don't see motherhood as a resume builder.
Why do I continue to play down my maternal experiences, my passion for parenting, and my nearly decade career in motherhood?
And suddenly I felt a weight lift off of me – the weigh of unjustified disappointment.
~
The awards ceremony continued and I started to hear a very impressive, yet somewhat familiar bio being introduced. My thoughts turned from myself, back to my husband, who was very surprised and honored to be chosen as one of the 20 under 40 award recipients.
And my face beamed with pride.
Credit had been given and acknowledged where credit was due. And in leaving that evening, not only did I exit with a sense of pride in my husband, but I also left with a sense of gratification of my own life's accomplishments.
Celebrating our accomplishments after the 20 under 40 Leadership Award Banquet.
So back to my initial inquiry…
QUESTION: Have you ever not given yourself enough credit, where credit was due?
ANSWER: Yes! And I am determined not to do it any more!
Leave a comment: Have you ever failed to give yourself enough credit for a job well done? What can you reflect back on and give yourself credit for during your career in parenting?
~
Today I am linking up with Just.Be.Enough.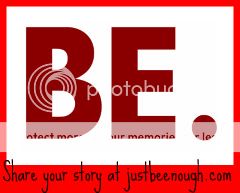 Just.Be.Enough. has a mission to empower, inspire, and remind women, parents
and children that the time has come to celebrate ourselves. Hop over and check out their blog!