To-do lists, calendars, email reminders to myself… I have tried it all.
Remembering all the things that need to get done in my busy life can be hard for me. And sometimes, I admit, I just tune out.
To those of my friends and family who are still patiently waiting for me to remember:
that "catch-up" phone call or lunch date that I promised you
a copy of that great recipe I told you I'd get to you (back from the days when I actually remembered had time to cook)
the pair of pants that I borrowed for my son during a play date (you know, that play date where I had to race out unexpectedly because I forgot I had to also pick up my oldest daughter from soccer… YES, that one!)
Well, to all of you – please don't hold your breath.
Because unfortunately, it seems as though with each child I have given birth too, I have managed to lose just a few more million thousand hundred brain cells that relate directly to my short-term memory.
Remember them? Thing 1, Thing 2 and Thing 3 – The Short-term Memory Suckers!?!
This short term "mommy memory loss," for me, is a fact. (That most of my friends and family can probably attest to and have experienced an encounter with sometime over the past 9-ish years.)

As a side note to my husband: PLEASE don't ask me to remember just one more thing at the grocery store that you told me over and over about mentioned just as I was heading out the door. *Hint: If you want to ensure I will remember it – OFFICIALLY ADD IT TO THE LIST!
You name it. I've forgotten it.
Garbage day, groceries, and homework for the kids.
My morning coffee (not a pretty picture), my afternoon lunch, and dinner for the family.
My cell phone, my purse the diaper bag, and occasionally even a kid or two (Not for long! I promise!) …
And forgetting – is never a good way to start or end a day.
Yet Why Be So Negative?
OK, maybe I sound as if I am being just a bit harsh on myself?
I remember enough. I do the best I can.
Maybe I need to give myself a little more credit. Because I DO manage to get a majority of the things done that need to get done. And I do tend to get the majority of the kids to the majority of the places that they need to be. (2 out of 3 ain't bad, right?)
Regardless, to make a long story short, I am not embarrassed to admit that in order to get these seemingly small things done, I often rely heavily on my to-do lists, my calendar and (yes!) email reminders to myself.
It's the BIG Things that Count though…
But what I do worry about is forgetting the other things…
The other things that sometimes aren't so tangible and measurable.
The things that are often way more important then getting dinner on the table, remembering my morning coffee or forgetting an item at the grocery store.
So today, I decided to write another to-do list.
An ongoing to-do list with no deadlines attached. A list that from here on out, I plan to keep close at hand in order to remember some of those even less easy-to-remember items during all my busy, crazy, forgetful days as a mother, wife, sister, daughter, friend, and teacher…
I'm going to call it:
My Things-to-Remember-Forever List:
I will make mistakes (I shouldn't regret them but learn from them)
Don't forget to prioritize (and realized that other people's priorities may be different than my own)
IMPORTANT: Always remember to say thank you
I DO need a life outside of three kids (P.S. Don't forget about your friends!)
I am not a bwitch (even though last week's post may have tried to prove differently!)
FACT: Sometimes I won't be able to get it all done
And last but definitely not least…
There once was a time in life when I could sleep in… and their will be a time when I can sleep in again! (Of course there will be… right!?)
Disclaimer: I have the right to change, update, add to, elaborate and/or delete any item on this list. Life changes and so will my list of things I need to remember – that I am sure of!
What would be on your list to remember forever?
Am I forgetting anything (I know – shocker! – me forget?) Let me know in a comment!
~
Today I am linking up with Just.Be.Enough.
Because I am OK with forgetting every once in a while.
And really, I don't need to remember everything.
I do the best I can (with the help of my to-do lists, calendar and e-mail reminders!).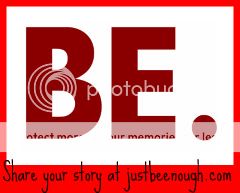 Just.Be.Enough. has a mission to empower, inspire, and remind women, parents
and children that the time has come to celebrate ourselves. Hop over and check out their blog!