It's 8 o'clock on a Thursday evening and time for my daughter to go to bed.
I pop my head into her room to tell her lights out, and before I say anything…
She looks up to me…
And innocently says:
"What do you want momma?"
And in only a matter of seconds (a blink of the eye really) the following conversation goes on in my head:
What do you mean, what do I want?
This sentence is hard to grasp when the question I'm typically thinking of answering is:
What do you want?
Do you want your breakfast in the morning? Do you want your lunch packed for school? What about soccer? Do you need a ride? Yep! That's me. I can do that!
A clean the house? Washed and folded laundry? Spic and span bathroom floors? (OK, that might be going a little far… but you get the point!) What do you want? I can do all those things and MORE for you…
But what do  I   want??
Seriously, all that swirled through my head, yet within only moments I am back to the reality of 8:00 (well… maybe 8:01 now).
And all I say back to my daughter and her unknowingly loaded questions is:
"Lights out honey. You have school tomorrow."
And I head downstairs to the sound of silence.
~
But it's there now, lingering in my head, the forbidden question, asked at the "question witching hour."
(a.k.a. the hour when the kids are asleep, my day is closing, and all I really have left to do is… Think.)
What do I want?
I stare out at the darkness and ponder…
Ponder something I just don't seem to be able to come up with an answer to.
Sometimes I want silence (on those days when there is no silence to be found).
Sometimes I just want to get away from it all (during those days, months, weeks where I feel I haven't had a break).
Sometimes I want my health back or the health back of a loved one…
But right now, what do I want?
Slowly I begin to realize, that at this moment I want none of those things above.
Silence comes and goes – but it is silent right now.
Get away? Sure, I could, but today there is no place like home.
Furthermore, miraculously, no one is sick (a taboo remark to even think!)
And for just a moment I realize:
What do I want?
Nothing right now.
And that's very rare.
And it feels good.
I cover my legs with the warmth of my favorite blanket and snuggle into my favorite reading chair intent on enjoying a moment that I am certain will go away soon.
A moment that deserves to be enjoyed.
Author's *Very Important* Note: It's funny, because I had a really hard time coming up with a topic in my life to blog about last week (thus the fun, educational yet somewhat impersonal Blog Stalking Guide) and in hindsight, I think I was just scared to blog that I was momentarily happy. Because sometimes, I feel that the only thing more frowned upon then the Forbidden Question of: What do I want? is the Forbidden Answer of: Nothing, I'm happy as is.
Leave a Comment: Why do we often feel bad about saying we're happy? (Or is that just me?)
~
Today I am linking up with Just.Be.Enough.
Because you shouldn't be afraid to admit every once in a while:
"YES! I am happy."
(no matter how long or brief the moment of happiness lasts)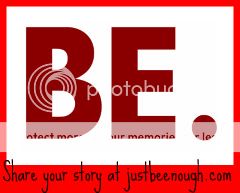 Just.Be.Enough. has a mission to empower, inspire, and remind women, parents
and children that the time has come to celebrate ourselves.