This is the second post in a series I plan to do called On-the-Go Momma Guides – meant to be guides to things that I myself find useful and thus decided to share with you, my readers. You can find the others in this series here.
I saw this quote the other day and could not for the life of me find the author.
~
"Work for a cause, not for applause.
Live life to express, not to impress.
Don't strive to make your presence noticed,
just make your absence felt."
~
Then I realized why I couldn't find the quote's author. Duh!
—> That is the whole point of the quote.
In realizing that, I also realized that this quote was a perfect way to begin this post.
Because this post was inspired by some doubts I had this morning.
When Self Doubt Creeps In…
This morning I woke up eager to write. With a babysitter at hand for my youngest and my two oldest off to school for the day, I was ready to successfully attack my workday when suddenly…
I was hit with a blow.
(Not a physical blow, more of an ego blow.)
And immediately that gusto to work which I had woken up with was shattered. I no longer felt inspired to write. Instead, I began to wrestle in my head with self doubt:
Really, who even reads this blog?
Why am I taking time away from my family every weekend to write just one post a week here? (Especially when most bloggers post at least 3-4 times a week!)
I miss my friends. I miss free time.
What's the point?
Maybe,
I should just stop.
~
It's times like these that are the hardest. The times when self doubt creeps in and I forget why I do all the things that I do. So I decided to search for inspiration, and in doing this I came across the following three sources of motivation.
Really, these 3 sources anyone could relate to, in any job, in any stage of their life… at least I think so.
So I thought I would share them with you.
1. First things first… I WILL succeed.
Everyone has self doubt. Everyone. Ira Glass is an American public radio personality, and host and producer of the radio and television show This American Life. In this 1 minute and 55 second video I gained more creative encouragement then in an entire Oprah's Master Class show. (I love that show!)
Ira Glass on the Creative Process (1:55)

Bottom Line: Everyone has self doubt. But if you love what you do, you just have to Fight. Your way. THROUGH IT.
2. Be careful what you wish for.
It is important to remember that success always comes with a cost, make sure you know what that price is. This next influence came from Blogging with Amy. Amy has a habit of saying out loud, the random thoughts I sometimes think in my head. This 5 minute video of her's is not really about blogging. Its about success in life. (Totally worth your 5 minutes to watch IMHO.)
Blogging with Amy – Blogging "Success"? (5:53)
Bottom Line: The grass is always greener on the other side of the fence and it is important to remember the real reasons why you do what you do.
3. Motherhood is a big part of me, but it isn't the entire me.
Often, my self doubt is brought on primarily by that nasty word Guilt. This post that I am linking to below by Megan Francis of The Happiest Mom*, reminds me how important it is to think of my life as a whole, and not just where I am now.
Note: If you follow me on Facebook, you may remember that I shared this post there last week via my friend and co-worker Valerie Young who writes the blog Your (Wo)man in Washington.

The Happiest Mom: I am a mother, but first I was just me.
Bottom Line: I have dreams, and it is OK to dream beyond just being a parent.
Banishing Self Doubt
I'm a wife, a mother, an educator, a writer, a communicator, an artist and so much more.
And I do all of these things because I love to do them – most of the time.
The thing is, I do all these things so much better when I leave the self doubt behind and when I am inspired.
I don't need everyone to notice the heart and soul that goes into every task I take on. I don't need to impress anyone other then myself and my conscious. And most of all, I shouldn't give self doubt more attention then it really deserves.
What I want most in life is to feel inspired – day in and day out.
And what's more, if I could contribute one thing to society, it would be to also inspire others to be what they want most to be.
And guess what?
I have no doubt that I can do that… if I put my mind to it.
Leave a Comment: What's your inspiration? How do you deal with self doubt?
~
Today I am linking up with Just Be Enough.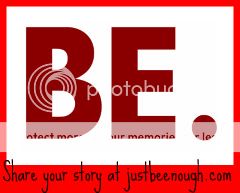 Just.Be.Enough. has a mission to empower, inspire, and remind women, parents
and children that the time has come to celebrate ourselves.
Also Linking up with Bianca at Bits of Bee for her Quotable Bits Link-up!