~
"Choose your thoughts carefully … you are a masterpiece of your life."
From the book 'The Secret'
~
Nearly two years ago I consciously started to set goals for myself – seemingly impossible goals, yet nevertheless goals I hoped to someday achieve.
Not only did I set goals, but I revisited these goals. Sometimes I wrote my dreams down. Other times I might just talk about them with my husband, my friends, or my family. Occasionally I even considered what lie beyond my crazy, lofty goals.
And in hindsight, what I've noticed is that the more I talked and thought about these crazy, pie-in-the-sky dreams, the more…
My dreams actually started to materialize.
So with a handful of dreams and goals in my back pocket and some minor successes that were a great form of personal encouragement, I marched forward with optimism.
And with this knowledge in mind, at the end of January when my friend and coworker Valerie Young posted to our NAMC Policy Blog – Your (Wo)Man in Washington – about applying to be your state's delegate for Parenting Magazine's 2012 Mom Congress on Education and Learning Conference taking place in Washington DC, you might not be totally taken by surprised at the optimistic response I left on her blog:
Unbelievably, I had predicted the future.
I knew that I was passionate about education – as a teacher, a mother, and a wife to an education administrator. I wasn't confident that others saw this passion in me, but I was confident in my own knowledge of my enthusiasm.
I had a dream to attend.
And that dream came true this past week.
Captured on Camera – Day 1 in DC
My trip began a day early to visit with my sister who lives in Washington DC.
We shopped till we dropped in Georgetown.
I know it doesn't look like it, but we did some MAJOR damage shopping!
We then did a whirlwind driving tour of Washington DC and the surrounding area. (Courtesy of my sister's wonderful DC breed boyfriend!)
And ended our day with a great sushi dinner and ice-cream in Old Town Alexandria.
The Power of Women – Day 2 in DC
The first day of the actual conference I arrived to the hotel early in order to jot off to lunch with two women I admire – Valerie Young (my co-worker and an amazing advocate for women and mothers) and Shannon – the writer of the blog But I Do Have a Law Degree (one of my "must-read" blogs).
There is nothing like the support of other women and mothers to start a day off right and give you a boost of confidence when you are a tad overwhelmed!
And the significant impact and noticeable power of women and mothers continued to shine as we kicked off the conference at Georgetown University.
Me with the 2012 Michigan Delegate and the 2010 Ohio Delegate, Georgetown University Campus, Mom Congress Day 1.
Our Voices Make a Difference – Day 3 in DC
Mothers make a difference and our voices matter.
On the 2nd day of the conference I heard this loud and clear during a town-hall-style meeting at the National Press Club that kicked-off with a discussion on building a successful parent-teacher relationship, moderated by NBC News Chief Education Correspondent Rehema Ellis.
Anna Connery (Editorial Director – Parenting), Rehema Ellis, and Lily Eskelsen (VP – National Education Association)
The conversation on the important roll mothers and parents play in education was reinforced again when the U.S. Secretary of Education Arne Duncan spoke to us (If you'd like to read his full speech you can click here)
This conference highlight was followed up by many other amazing speakers, presentations and case studies on various topics related to advocating for our own children and advocating for education on a larger scale.
The evening ended with a wonderful dinner at the Lincoln Restaurant where I got to further connect and bond with the other amazing women from all over the country chosen to be Mom Congress delegates this year and in years past.
Photo courtesy of Mary Ellen DeBois, 2012 Minnesota Delegate
That's a Wrap – Day 4 in DC
Our last day was a whirlwind. Filled with some more amazing speakers and then my travels back to Ohio.
There is so much more I could say about my tremendous experience in Washington DC, (and I will continue to write about it both here and on the Mothers Central Blog,) but for now I want to conclude with a short 3 minute clip of one of the most inspiring speakers I felt I heard during the conference.
Byron Garret is the Chair of the National Family Engagement Alliance and gave an inspiring presentation on his life and background in education. He finished his address with a powerful talk about what he calls the ABC's of Life. (Note: This video is not taken from the conference, but shows the exact same talk he concluded with.)
It. IS. Powerful.
And to think… I got to do all of this, because I dreamed that I could.
Amazing.
Walt Disney once said: If you can dream it, you can do it.
I think I would have to agree.
A dream… Is a powerful thing.
Leave a Comment. How powerful do you think your dreams are? How often do you revisit your life goals?

This week I am linking up with Just Be Enough.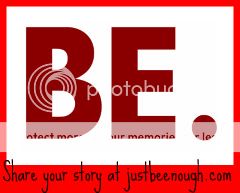 Just.Be.Enough. has a mission to empower, inspire, and remind women, parents
and children that the time has come to celebrate ourselves.
I am also linking up with Bianca at Bits of Bee for her Quotable Bits Link-up.