The other day I spent hours upon hours trying to write the perfect post.*
I read and re-read.
I crafted a flawless sentence and then scrapped the very same sentence.
I smiled at my thoughts, and then moments later would cringe at the exact same notion.
Perfectionism is incredibly…
Annoying.
After spending a few more agonizing mornings writing, editing and re-writing this post (a very FAR from perfect post) – I slowly began to realize that:
a. I will never be 100% happy with anything I write.
b. Perfectionism is in the eye of the beholder.
c. I am a horrible speller.**
Here's the problem: I probably have issues with perfectionism.
I want everything I do wrapped up in a perfectly sized box and bow, delivered on time and received with applause and smiles. Yet a perfectly wrapped package is not easily done. What's more, seemingly flawless outer wrappings are often a quick fix to deeper issues within the contents of any size box.
1 Box = 4 corners and 4 sides. All of which can contain (on occasion) way too much…
Bull sh!@#t.
No one's life is perfect. (And the same can be said of my writing).
BUT,
That's OK.
(It is, I promise…) <— Me trying really hard to convince myself.
My real life is:
Trying on bathing suits that don't always fit as I had hoped.
Not getting enough sleep and not finding the time for an afternoon nap.
Waking up on a "day off" ready to enjoy outside activities, only to find it is relentlessly storming.
Likewise, my real writing can often be:
Trying ideas out that maybe don't work like I anticipated.
Not getting ample time to complete a post in the morning and then never finding the time later to really finish it like intended.
Waking up fresh in anticipation of a great work day, only to have obstacle upon "stormy" obstacle keep me from working the way I envisioned.
In writing and in life, clearing through all the bull sh!@#t is often necessary. (So bear with me on those weeks I am attempting to "clear the way.")
I've had it up to here with relentless, unobtainable perfectionism.
Instead of aspiring to be really perfect, a better hope might be to make my life and this blog:
Perfectly real.
Take two.
* The only thing from the original post that still remains is the beginning of the title and the three bullet points under "My real life is:".
** Bonus points for each spelling mistake I find (and don't find!) after publishing this.
Leave a Comment: Do you have perfectionist tendencies? How do you curb them?

This week I am linking up with Just Be Enough.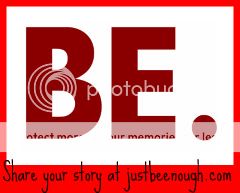 Just.Be.Enough. has a mission to empower, inspire, and remind women, parents
and children that the time has come to celebrate ourselves.