AUTHOR'S NOTE: The following is a two part reflection of my recent trip to Florida with my husband. We had an amazing trip, but the real story lies in the before and after. I hope you'll return next week for Part 2.

PART 1: There
I'm not gonna lie, up until the very moment I stepped onto our plane (destined for a 5-day getaway) the sadness, stress and tragic events that unbelievably consumed much of my normal, busy, everyday life had begun to catch up with me.
My husband and I both left our home physically exhausted from lack of sleep and worries.
There were small-sized concerns (such as making sure our kids got everywhere they needed to be while we were away)
There were large-sized uncertainties (especially as I considered my friends and co-workers in Long Island who continued to face ongoing strains and stresses after Hurricane Sandy)
There were emotional, all-encompassing worries (such as the news that a new tumor had recently been discovered in my young nephew – already a Cancer survivor)
And then there were the unreasonable and silly stresses (such as planning for the craziness that is my month of December)
Along with other unthinkable tragedies striking all-too-close-to-home (such as this one that hit 3 children in our school district the day before we were scheduled to leave)
And what's listed above is only a fraction of what had been consuming our daily lives. It was like every sad, tragic, stressful thing that could possibly have happened without pushing me completely over the edge – had occurred.
As if preparing to leave three busy, young children with family for a few days of rest as a couple wasn't challenging enough, life had to also throw out all these additional, emotionally draining curve balls…
You can start to envision the tsunami-like wave looming to overtake our now very noticeably forced positive attitudes.
We almost cancelled our vacation.
Almost.
But we didn't.
Instead, as our tired, mentally exhausted bodies slammed into our seats on the plane I closed my eyes, trying to remember how to relax. I picked up my iPad, opened up my Kindle App and started to read (something I rarely allow myself the luxury to do) as we made our way there.
There. The relaxing spot my husband and I like to call our home away from home.
Pictured above: our views from the condo, the pool and the beach.
And for the 1st time in over a week, as I sat slumped in my tiny seat on the airplane, I was truly able to envision and count ALL our blessings.
Our health. Our home. Our loving family that helped to make this escape possible. I felt so thankful that my husband and I could break free for just a few days – a few days that coincided exactly with when we so desperately needed a break the most.
At least for a short time we could escape all the madness and uncertainty that seemed to surround us and…
Begin to focus on building back up our emotional strength.
I sat exhausted, tired, drained… but hopeful. And hope is important.
I was so thankful to have even an ounce of hope on the way there.
Leave a Comment: What keeps you positive when it seems as though a dark patch will never end? It is often in my darkest moments that I find the most to be thankful for.
* Thank you for reading Part 1 – There. Up next week: Part 2: Back
~
This week I am linking up with Just Be Enough writing to the prompt of "Thankful."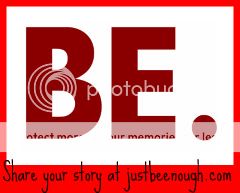 Just.Be.Enough. has a mission to empower, inspire, and remind women, parents
and children that the time has come to celebrate ourselves.