~
"And the Angel was like SHAZAAM! you're pregnant.
Yep! Just hit her with some magic and was all like SHAZAAM!"
~ A student perspective (misunderstanding?) of how Mary became pregnant with Jesus
(as written in our church's hilarious Christmas pageant which my children participated in this weekend).
~
Whether or not immaculate conception is part of your personal beliefs, there is something as parents, caregivers and adults that we all should believe in: We do have power.
As guardians of children, we have more power than we know.
Being a parent of young children I can give hugs and kisses.
I can offer up hope when my children feel hopeless.
And I can hand out smiles when I see frowns.
I can show my little ones how to: build a castle, complete a book report and do a cartwheel. (Ok, maybe "technically" I can no longer "show them" how to do a cartwheel… but I can at least encourage them?)
My oldest completing her book report by herself this weekend.
I can help them gather their toys and make their beds. Or insist they gather their own toys and make their own beds (depending on the day, their age and my own level of patience).
I can buy shoes for my children that I absolutely loath only because they absolutely love them.
Oh, how I dislike these shoes… but I try to pick and choose my battles.
I can refuse to buy my child the 3DS device that he really, really wants because he already has a DSiXL (and what could possibly be so different between the two devices?) only to find out that the game he also really, really wants is not made for the older gaming device, in turn causing me to begin second guessing my decision and subsequently realize that sometimes it's OK to maybe change my mind… eventually, not yet! But maybe eventually…
(OK. Sorry. I got a little bit off track.)
(Hypothetically speaking…) I can force insist that my child need to wear his assigned donkey costume in the church Christmas pageant even though he really doesn't want to. (Because we all have to suck it up and take one for the team every once in a while, right?)
Hypothetically speaking of course.
More importantly, I can make sure my children learn the difference between needs and wants, help them to understand how much they have and how much others still need, while modeling empathy and understanding (as I silently continue to work on these skills myself).
I can discipline them when they misbehave (because I know I need to teach my kids how to be successful in life – even though it often breaks my heart to do so).
I can remember to give my young children enough sleep (so I might not have as great of a need to discipline them and thus less momentary-breakings-of-my-heart). HOWEVER, I can also "forget" to put them to bed occasionally because we were just having Too. Much. Fun. (It's OK, really. I just need to realize that there might be some heartbreak'en discipline the next day…)
I can potty train them. (Hopefully! Although I am beginning to wonder…)
I can show them how and when to lead and follow. (Because both skills are important.)
But most of all,
I can show them how to love by loving them unconditionally
(even when they do break my heart).
As parents, we have a lot of power to shape the future.
Let's use it.
SHAZAAM!
Leave a Comment: Our most powerful job is as parents, caregivers and guardians to the children who touch our lives. How do you use that power?

~
Note #1: I will be taking a short break for a couple weeks to "use my parental power" over the holidays. See you in the New Year!
Note #2: This post was partially written as a parental response to the recent tragedy at Sandy Hook Elementary. Sometimes, the only power I feel I do have when left feeling "powerless" against such a horrible tragedy is to focus on how I can mold my own children.
Note #3: I was inspired by the writing prompt "I Can" and am linking up this post with Just. Be. Enough.
Note #4: No. More. Notes 🙂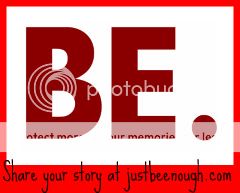 Just.Be.Enough. has a mission to empower, inspire, and remind women, parents
and children that the time has come to celebrate ourselves.